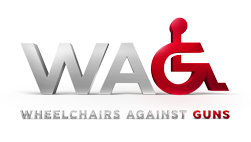 Meet The Heroes Protecting NYC's Students From Bullying, Gangs & Gun Violence
The Problem
Bullying, gang activity and gun violence is rising at an alarming rate in schools across the country.
According to statistics gathered by EveryTown.org and Gun Violence Archives, there have been 290 school shootings since the Sandy Hook tragedy in 2012.
And although not every incident received national media attention, there have been more than 36 school shootings in 2018 alone.
The Solution
As survivors of gun violence, the members of Wheelchairs Against Guns (WAG) have come face-to-face with the violence epidemic plaguing America.
Understanding the best way to end violence in our schools, is by preventing it before it happens, the WAG team focuses on teaching New York City students about the dangers and consequences of violent behavior in a way they can relate to.
WAG's solution is a series of interactive violence prevention workshops that teach students:
Conflict resolution strategies
Critical thinking techniques
How to build and maintain positive self esteem
Here's How You Can Help
Since 2013, WAG has been working tirelessly to protect students from the dangers of bullying, gangs & gun violence. Their efforts have been nothing short of heroic — but there is still much work to be done.
Currently, WAG's workshops are in a limited number of schools, but with the rise in bullying and other forms of violence facing students, there is a dire need to expand to more schools.
And that's where your help comes in…
Join WAG and sign their petition for the Department of Education (DOE) to expand violence prevention workshops to more NYC schools.
The petition will send a very clear message to the DOE that New Yorkers care about the safety of their children and want programs aimed at protecting them.
Wheelchairs Against Guns is a federally recognized 501(c)(3) non-profit organization.
Their work with New York City students has been covered extensively by the media, so you can be sure you are lending your support to an organization that has a proven track record of effectiveness when it comes to working with our children.
Sign WAG's Petition To The NYCDOE
Wheelchairs Against Guns is a federally registered 501(c)(3) non-profit.
For speaking engagements, interviews or workshops: Call Kareem Nelson @ 917.564.2897