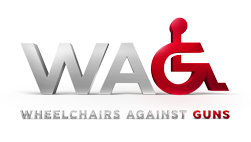 Thank You For Signing WAG's Petition 
 Let's Continue The Fight Against School Violence Together
For the past 5 years, WAG's non-profit workshops have been solely funded by the disability check of its founder, Kareem Nelson, and the generosity of supporters like you.
Help the team continue educating and protecting New York City's students from the threat of bullying, gangs & gun violence by becoming a workshop sponsor today!
** Your sponsorship is 100% tax deductible. **
Wheelchairs Against Guns is a federally registered 501(c)(3) non-profit.
For speaking engagements, interviews or workshops: Call Kareem Nelson @ 917.564.2897